Introduction (From a group of great WordPress Developers👋)
WordPress is a popular content management system that can be used to create websites.
WordPress is open-source software, which means it is free of ongoing licence fees. It also offers many features and plugins that make website creation and management cost-effective in the hands of our WordPress Developers based in Auckland New Zealand.
We are WordPress developers based in Auckland New Zealand that work with companies across the country. We have a long association with WordPress as a cost-effective developers tool that has led to satisfied business clients in Auckland and all over New Zealand. The following is a bit more about WordPress and what it can do for your business.
1. What is the history of WordPress?
WordPress was first released in 2003 as a tool for creating blogs. In the years since it has become one of the most popular content management systems for all types of website development.
It is open-source software, which offers many features and functional plugins to make website creation and management easy.
WordPress was founded by Matt Mullenweg and Mike Little. Mullenweg is still the lead developer, and after turning WordPress into a global phenomenon with over 60 million websites built.
If you want to know more I suggest you listen to the Tim Ferris podcast where he speaks to Matt Mullenweg who is a close friend about the history of WordPress. You can hear it here.
To be honest they go off topic a lot and end up talking more about the antarctic and great life tips than WordPress.
2. How is WordPress different?
When we started our business journey, we were conscious that New Zealand is a nation of small and micro businesses – including self-employed businesses. Defined as those with fewer than 20 employees.
That's why we chose WordPress as our go-to developer's tool so that we were able to deliver cost-effective outcomes for our business clients.
It should be noted that WordPress is different from other content management systems in several ways.
It is open-source software, which means that people from around the world contribute to its development.
There are no ongoing licensing fees for business clients.
It offers a wide range of features and software plugins to make website creation and management applicable to any business situation.
Another advantage of WordPress is its flexibility. It can be used for any type of website, from a simple blog to a complex e-commerce site. There are thousands of themes and plugins available that our Auckland developers can use to satisfy your needs.
The big takeaway here is it is open source so once our developers have built your site, you own the website. Many other website development platforms like Wix etc.. actually own your website. Tread carefully.
3. What to look for in a New Zealand WordPress developer?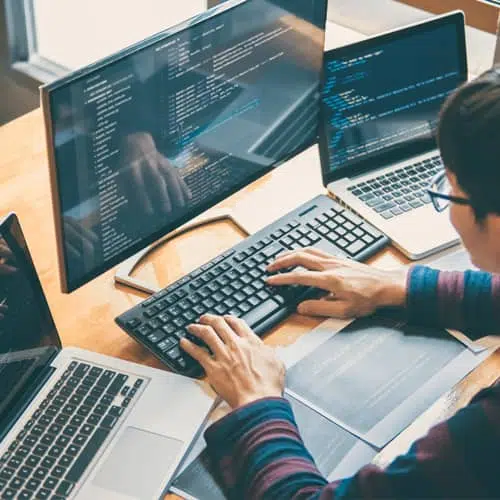 When looking for a WordPress developer, businesses in New Zealand should ensure that the developer has a good understanding of the platform and how it can be used to deliver value to their business clients.
The WordPress developer should also be able to work with the business to understand their needs and provide empathy to help them achieve their goals.
Essentially a WordPress developer should also be able to provide training and support to ensure that the website is maintained and updated as needed.
As Auckland-based WordPress developers, we have a strong understanding of New Zealand and the way businesses in New Zealand operate, together with proven experience as New Zealand-based
WordPress developers, with a proven track record of delivering value to their clients.
4. How do we as WordPress developers deliver Value to your business?
WordPress is used by our developers in New Zealand to create websites and deliver value to our business clients.
It is an efficient website development platform that allows for ease of customisation and scalability, making it a popular choice for New Zealand businesses of all sizes.
Our developers can use WordPress to create customised themes and plugins that meet the specific needs of our clients, and the platform's flexibility ensures that businesses can grow their websites as their needs change.
In addition, WordPress is affordable and easy to use, making it a cost-effective option for your business. Overall, WordPress is an excellent platform that enables us to deliver value to you.
5. How does your business prepare for a WordPress website?
As one of the pre-eminent WordPress website developers in New Zealand, we have learned that preparation is key to delivering the best website experience possible, for our business clients.
A website is a valuable business asset for any New Zealand company, regardless of size or location.
When working with our WordPress developers to create your website, there are a few key things that your business should keep in mind.
First and foremost, businesses should be clear about their goals for the website and what they hope to achieve. We as WordPress developers will need this information to create a site that meets your business's needs.
Secondly, your business should, where possible provide our WordPress developers with as much content as you possibly can.
This includes text, images, and other multimedia content. The more information our WordPress developers have, the better they can create a website that is both visually appealing and effective at meeting your business's goals.
Please note however that we understand that it is difficult to expect you to be a proficient writer of website text content, therefore we offer, as part of our service, our ability to write website content for you.
After a simple question-and-answer consultation with you, where we attempt to extract the essence of how you view your business and how it operates, we will attempt to create unique and compelling content that will drive clients to your new site.
Of course, you will be engaged throughout this process and have final approval of any content that gets added to your new WordPress website.
Finally, businesses need to exercise patience during the WordPress site development process.
Creating a website takes time and requires input from both our WordPress developers and you the business owner.
By working closely with our WordPress developers and providing them with all of the necessary information, your business can ensure that the website is not only beautiful but also effective in helping your business reach its goals.
6. Hosting your New Zealand WordPress website?
We mentioned above that WordPress is a popular content management system that enables the creation of a simple informational website, blog or eCommerce site, via our Auckland-based WordPress developer services, right here in New Zealand.
WordPress is used by millions of people around the world, including many large organisations, such as The Guardian, Forbes, and The New York Times.
Our New Zealand WordPress developer services are designed to take the hard work out of, not only the physical creation of the website, with all the technical intricacies that this entails but also other essential activities such as;
Domain name acquisition, and
Hosting your website
Our WordPress development services can provide hosting services for your WordPress website in New Zealand, or overseas.
When making your hosting decision there are a few things you need to consider.
If your clients are based predominantly in New Zealand then it makes sense to host your website locally.
If you offer products or services to the world, then it may make sense to host your website overseas.
Many providers offer a hosting service, so you can be assured that our WordPress developer service will shop around and compare features and pricing that meets your needs.
For example, Hosting providers offer various plans that differ in terms of features and price. When selecting a plan, it is important to consider the needs of your website. For example, if you are expecting a lot of traffic, you will need a plan with unlimited bandwidth.
Whatever your hosting decision, rest assured that our New Zealand WordPress developer team will be there to offer the necessary advice. We've got your back.
7. Conclusion – what about the Future?
Our New Zealand WordPress developers are only too aware that your website will be a powerful tool that can help your business to reach a wider audience and generate more sales for you.
Your website will only be effective if it is well-maintained and regularly updated. Otherwise, your customers will quickly become frustrated with outdated written content or broken hyperlinks, and they will go elsewhere.
To keep your customers coming back, our New Zealand WordPress developers know it is essential to commit to ongoing maintenance and management of your website.
This includes regularly publishing fresh written content, fixing any broken hyperlinks or bugs, and ensuring that all of your contact information is up to date.
By allowing our New Zealand WordPress developers to make your new website's maintenance their priority, your website will continue to run smoothly and your customers will keep coming back for more…..
If you're interested in what we do or what we've blogged about above, please feel free to contact us at Click here and one of our New Zealand WordPress developers will be happy to provide a free consultation.